Dear Community, 
Like many of you, I have been eagerly following Ontario's Covid-19 Vaccination Program, and was ready to book as soon as appointments were available for my age group. I'm happy to share that I got my shot!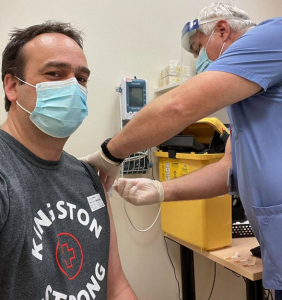 I received my first dose of AstraZeneca at Élisabeth Bruyère Hospital in Ottawa on May 10th. Renault worked here for 30 years and recently came out of retirement to administer vaccines.
Happy National Nursing Week!
For the second year in a row, we are commemorating National Nursing week during a pandemic, so recognizing the invaluable role that nurses play in safeguarding the well-being and health of Canadians feels especially significant. Please take a moment to recognize and appreciate the work that nurses do in our community and across the nation! 
Here's my message to nurses in Kingston and the Islands and across Canada:
Bill C-10
Bill C-10 amends the Broadcasting Act. The Act sets out the broadcasting policy for Canada, the role and powers of the Canadian Radio-television and Telecommunications Commission (the Commission) in regulating and supervising the broadcasting system, and the mandate for the Canadian Broadcasting Corporation. The Act plays an important role in supporting Canada's cultural industries and ensuring Canadian content is available and accessible.
As we continue to hear from constituents worried about the impact these amendments will have on free speech, I would like to set the record straight. Please watch the three-minute video below:
June is Pride Month!
Pride Month is right around the corner, and will be here before we know it! Vanessa and I always enjoy participating with our kids during the Kingston Pride Parade and Community Fair – and we are both looking forward to the time where we can safely resume celebrating in person together.
This year, we have created posters (pictured below)  for the community to share, as we celebrate Pride together, apart! Please fill out the order form below if you would like one mailed to you – orders will go out beginning next week.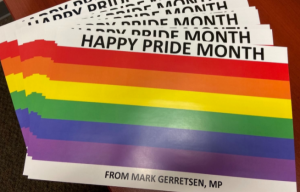 Let's show our support and love for the LGBTQ2+ community in windows across Kingston and the Islands! 10 respondents will also be selected at random to receive a full-size Pride Flag.
Please note that due to limited quantities, we are only able to mail these posters to residents of Kingston and the Islands.
Click HERE to fill out the online order form. 
As we continue to navigate the current stay at home order, and it's possible extension, I would like to remind you that the KFL&A Public Health website is a great source of information and guidance.
Keep safe and take care,