Update on Vaccines, Love Over Covid, Canada Summer Jobs and More!
Dear Community,
I hope that you and your loved ones are keeping safe as we embrace the month of May. With each passing day, we see more signs of Spring and are reminded that new beginnings are around the corner. Whether it be new leaves growing on trees, or Robin eggs hatching in nests nearby, Springtime is here and gives us a reason to celebrate and be hopeful for the weeks ahead.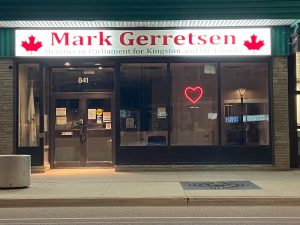 If you have been downtown Kingston lately, you may have noticed neon hearts in the windows of many local businesses. I recently had one installed in the window of my constituency office, which is pictured above. The neon hearts are a symbol to passersby to support local and spread love within our community. You can read more about this initiative here.
Love is More Contagious than COVID
A special shout out to a resident in our community, Ken Foster, who is the founder of the Love Over COVID initiative. Ken launched Love Over COVID after being inspired by the actions of other community members helping those in need during the COVID-19 Pandemic. Love Over COVID sells tote bags and graphic t-shirts with their slogan "Love is More Contagious than COVID". With each purchase, Ken chooses a local foodbank in the city that the purchase was ordered from, and donates all the proceeds to a foodbank in that respective city.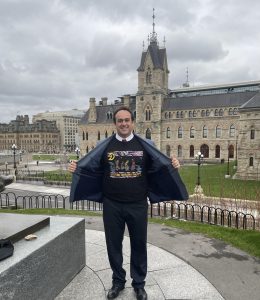 Canada Summer Jobs
Canada Summer Jobs (CSJ) is a program that the federal government funds to provide employment opportunities to young Canadians in many businesses and organizations across the country - which you can apply for here: jobbank.gc.ca/youth. A record breaking number of over 150,000 full and part-time job opportunities are currently available for young Canadians for a minimum of 6 weeks. This important program helps employers create summer jobs for young Canadians across the country, and right here in Kingston and the Islands. Please encourage any young people you know to visit jobbank.gc.ca/youth for more information.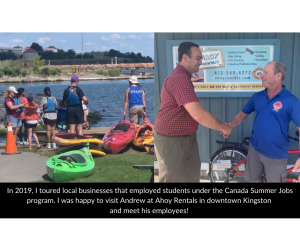 Bill C-10 in a Nutshell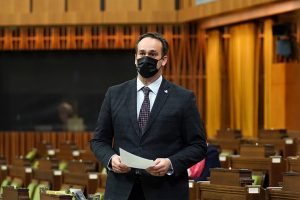 Several constituents have contacted my office with questions and concerns regarding Bill C-10, An Act to amend the Broadcasting Act and to make consequential amendments to other Acts. I want to take this opportunity to provide a summary of the Bill, and what it aims to do:  
Update key elements of the broadcasting policy for Canada

Provide the Canadian Radio-Television and Telecommunications Commission (CRTC) with new powers to regulate online audio and audio-visual services, which would allow the CRTC to create conditions of service and other requirements

Ensure that the creation of Canadian content is reflective of Canadian society and accessible to all Canadians

Take greater account of Indigenous cultures and languages

Recognize the needs and interests of all Canadians – including racialized communities and Canadians of ethnocultural backgrounds, socioeconomic status, abilities and disabilities, sexual orientation, gender identities and expressions etc.

Additional amendments would serve to promote greater accessibility for persons with disabilities

User-generated content, video games and news media will not be affected by the proposed changes. The Government has stated that it does not intend to regulate user generated content. The content Canadians create and upload to social media will not be considered as programming under the Act – and it will not be regulated by CRTC.
To read more about Bill C-10, please visit this website.
Update on Vaccines
You may have seen in the news that Canada's vaccine deliveries are ramping up for the month of May. I want to take this opportunity to highlight Canada's progress:
Over 13M Canadians (about 35% of our population) has received at least one dose, and 16.8M doses have been delivered to the provinces

Over 2M Pfizer and 1M Moderna vaccines will be delivered to Canada between May 10th-16th

Just yesterday, more than 1M Moderna vaccines arrived in Canada
The best vaccine is the first one you are offered. Please be assured that by the end of September, we will have more than enough vaccines to vaccinate every Canadian who wants to be.
We appreciate your feedback and your questions. We receive a high volume of correspondence and appreciate your patience in awaiting a response. Please flag any urgent inquiries, and we will endeavor to respond within 24 hours.
Keep safe and be well,
Mark