April 8th- Ontario's Stay at Home Order, Support, Third Crossing and Vaccines
Dear Community,
I hope this message finds you safe and well as the province of Ontario implements stronger emergency measures throughout the month of April.
We know this is a challenging time and that people in our community feel the impact differently.
I'd like to share some information about federal programs that might be helpful to you, or perhaps someone you know, below: 
Have you temporarily lost employment income?
There are federal programs designed to help individuals, financially, through a variety of COVID-19- related scenarios. Please visit COVID-19 benefits and services - Canada.ca for further details, or call my office for further information. 
Are you struggling with mental health or substance use during the pandemic? 
There is support available through the federal government's online platform Wellness Together Canada | Home or by calling 1-866-585-0445. 
There is, of course, support available from other levels of government, and my staff are able to make referrals accordingly.
I trust that our community will continue to respect public health guidelines, while moving forward with care and compassion for one another.     
Third Crossing:
The provincial government designated the Third Crossing as an essential infrastructure project, so work has continued as scheduled. Like most residents, I have been fascinated to see this bridge take shape. Since February, we have seen trucks carrying steel girders through our city streets as they make deliveries to the construction site. You can keep up to date with the bridge's progress on the City of Kingston's website:  Home - Third Crossing - City of Kingston.  
Last week, I had an opportunity to tour the site and see, firsthand, this project underway. I'm happy to share with you that things are on track for a 2022 opening.  
It's hard to believe that it has been three years since the federal, provincial, and municipal governments each committed to investing $60 million to build this bridge. 
Like the rest of our community, I can't wait for this work to be completed.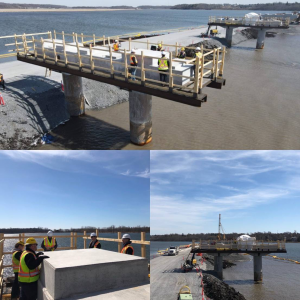 With a second month underway—where eligible residents can book vaccinations through  www.Ontario.ca/bookvaccine or 1-888-999-6488—I want to highlight that the federal government is now on track with COVID-19 Vaccine Procurement:
The federal government has delivered more than 4M doses to Ontario, which is more than the 2.26M originally forecasted.
On a national level, Canada was initially set to receive a total of 6M vaccines by the end of the first quarter of 2021. As of April 7th, we have distributed over 10M doses.
More than 6M people in Canada have received at least one dose - which is about 16% of our population.
It has recently been reported that the KFL&A Public Health Unit has administered the most doses per capita across Ontario. Further details available here:   Kingston leads the way in COVID-19 vaccine doses per capita (kingstonist.com)
Keep safe, stay strong! 
Sincerely,  
Mark
Mark Gerretsen, MP
Kingston and the Islands