April 1st- COVID-19 Vaccinations, Bill C-273 + Stay Safe!
Dear Community,
This week we provide an update on vaccines, an introduction to Bill C-273 — which could pave the way for a basic income in Canada, and a reminder to keep safe this Spring season.
Vaccine Procurement | Booking 70+ for KFL&A | Dose Intervals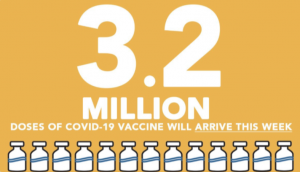 This week, 3.2 million COVID-19 Vaccines will be arriving in Canada. Of these doses, 1.2M are Pfizer-BioNTech, 590,400 are Moderna and 1.5M are AstraZeneca. 
On March 28th, the Government of Ontario announced that they have expanded their COVID-19 Vaccination Booking to Individuals Aged 70 and over in Additional Regions – which includes our community. You can find more information about this exciting announcement here.  
The above noted, NACI will continue to monitor the evidence on effectiveness of extended dose intervals and will adjust recommendations as needed. If you are interested in learning more – please visit this website. 
In Parliament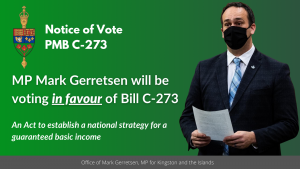 One of my colleagues, Julie Dzerowicz, the Member of Parliament for Davenport, has brought forward her Private Member's Bill, Bill C-273 which is titled "An Act to establish a national strategy for a guaranteed basic income". I am supportive of Bill C-273, and will be voting in favour of this Bill when the time comes. 
I have always been a strong proponent of a Guaranteed Basic Income. In November, Ryan Turnbull, Member of Parliament for Whitby, joined me in hosting an online discussion on Basic Income Guarantee. We were joined by the Honourable Hugh Segal (Former Canadian Senator),  Alvin Tedjo (former Ontario Liberal Party Leadership Candidate), and Professor Dr. Bernhard Neumärker (Head of Freiburg Institute for Basic Income Studies in Germany). Each of our guests provided a unique perspective on why they believe a Basic Income Guarantee would be beneficial for Canadians. You can view this discussion here. 
The COVID-19 pandemic has highlighted the inequalities and poverty occurring in Canada, and I firmly believe that a basic income would help reduce poverty and boost economic growth. 
If you would like to follow along with Bill C-273 as it makes its way through Parliament, you may wish to do so on this website.
Stay Safe 
As members of our community continue to celebrate and observe holidays throughout March and April,  it is important that we continue to follow public health guidelines.
As we head into the long weekend, please join me in looking for fun and safe ways to connect with your extended family, friends, and loved ones!  
It is our collective responsibility to do the best we can to protect our health care workers, essential service workers, and each other.     
Sincerely,
Mark