March 25th- Protect Yourself, Protect Others, Support Local
As more members of our community get vaccinated-whether through the pharmacy pilot program in KFL&A or through our mass immunization clinics-it has become conventional to ask, "which dose did you get?" I think it is important for Canadians to recognize that being vaccinated is about protecting yourself and others. The sooner we are all vaccinated, the sooner we can resume a more regular lifestyle.  While there is some talk about the different efficacy rates of each vaccine, the most important conclusion is that all four vaccines have been shown to be highly effective at preventing severe illness, hospitalization, and death.
Is the AstraZeneca COVID-29 Vaccination Safe? 
Based on recent media reports, several constituents have been in touch to ask questions about the AstraZeneca COVID-19 vaccine. That noted, I share with you the following information from Health Canada in hopes that it will help ease these concerns. 
First and foremost, Health Canada has authorised the vaccine based on a thorough, independent review of the evidence and determined that it meets Canada's safety, efficacy, and quality requirements.
While it is true that several European countries have elected to temporarily pause the use of specific batches of the AstraZeneca vaccine as a precautionary measure - pending the outcome of the European Medicines Agency (EMA) investigation, it is important to note that none of the batches under investigation were shipped to Canada. Health Canada is aware of these reports and reassures Canadians that the benefits of the vaccine continue to outweigh any risks. You can read Health Canada's advisory here.
The Government of Canada will continue to work with international regulators, including the EMA, to gather and assess information available to determine whether or not there is any need to take action here.  
You can read further details on Health Canada's authorization of the AstraZeneca COVID-19 vaccine by visiting the COVID-19 Vaccines and Treatments Portal.
Earlier this week, Dr. Kieran Moore - Medical Officer of Health at KFL&A Public Health received the AstraZeneca vaccine. His words inspire confidence:  
 "I feel hopeful in being part of the solution to put an end to this pandemic," said Dr. Kieran Moore. "The vaccine is safe and has been shown to be extremely effective. The benefits of the vaccine far outweigh the risks associated with contracting COVID-19."
Made in Canada: Local Businesses Offering Digital Solutions During COVID-19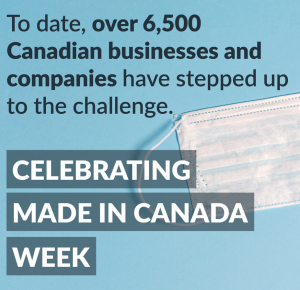 One year ago, the Government of Canada launched a Call to Action to mobilize industry in the fight against COVID-19. 
Last week, the federal government celebrated over 6,500 Canadian businesses and manufacturers who stepped up by making products and delivering solutions to support Canadian frontline health workers and the general public. 
I would like to acknowledge and congratulate two businesses in Kingston and the Islands who have received funding from Innovation, Science and Economic Development Canada:
Kings Distributed Systems
In partnership with Queen's University and other organizations-has launched a project named The Looking Glass: Protecting Canadians in a Return to Community. The database that the team is building is designed to support decision-makers by showing how proposed policies are predicted to impact public health and our economy.  
Optima Analytics Inc. 
Optima Analytics Inc. has received $293,000 for its intelligent digital clearing house, a scalable web application accessible from anywhere using a computer, tablet or mobile phone.
Stay Local/Support Local 
Out of necessity, much of my time in 2021 has been spent in Ottawa in Parliament. A quick tidbit here: the Honourable Chrystia Freeland, Minister of Finance, in response to my question in the House of Commons,  announced that the federal government would table Budget 2021 on April 19th.  More information to come!
One of the highlights of being at home in Kingston and the Islands, beyond time together with my family, has been the high quality of service-across all sectors-that I have seen in  our community!   Adapting to shifting health protocols is challenging, and our local businesses continue to rise to the occasion. We have been beyond impressed with the level of care that we receive, whether in person or through delivery at home. As the weather improves, and we become tempted to wander, I encourage you to stay local and shop local to support  our well-deserving business community through these challenging times.

As always, do not hesitate to be in touch, In the meantime, take care.
Sincerely, 
Mark Gerretsen, MP
Kingston and the Islands