Dear Community,
The 2021 tax season is here – a time where our community members will be filing their 2020 tax returns, and getting the benefits and credits to which they are entitled.
Due to the extraordinary circumstances we have all faced over the last year, this tax season will be unlike any other.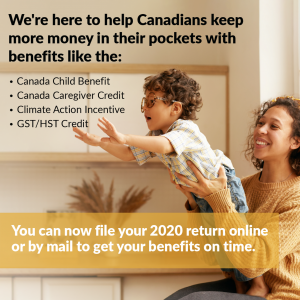 Here's what you need to know for the 2020 tax filing season:
The deadline to file your taxes is April 30th, 2021. It is important to file your taxes on time to ensure you continue to receive the Canada Child Benefit, and other credits to which you are entitled.  
If you are self-employed, your deadline is June 15, 2021.
Online filing opened on February 22nd, 2021. To get your notice of assessment (NOA) and refund faster and avoid delays, the CRA encourages you to sign up for direct deposit and to file online.
Paper filing may take 10-12 weeks for the CRA to issue your assessment due to on-site processing limitations in tax centres. Paper applications available on order:  Order the 2020 Income Tax Package
Filing if you received COVID-19 emergency benefits
Need Assistance? The CRA has introduced the following measures this year:
Adding more call centre agents and extending call hours to give taxpayers more time to have their tax and benefit questions answered;
Providing a targeted interest relief for Canadians who received COVID-19 related income support benefits, giving them more time and flexibility to pay if they have an amount owing;
Expanding payment arrangement parameters to provide Canadians more time and flexibility to repay a tax debt—those who are in difficult financial situations who find themselves owing money can call a CRA agent for help, toll-free at 1-888-863-8657 between 7:00 a.m. and 8:00 p.m., Eastern time, Monday to Friday (except holidays);
Helping employees cope with the impacts of the COVID-19 pandemic by making the deduction for home office expenses more accessible and easier to claim;
Supporting community organizations who offer free virtual tax help to individuals with modest income and a simple tax situation through the Community Volunteer Income Tax Program (CVITP);
Offering a Liaison Officer service that provides free personalized virtual visits by phone or videoconference to small business owners and self-employed individuals to help them understand their tax obligations.
Get in touch with the CRA:
Before calling the CRA, Canadians are encouraged to consult online services or My Account.
CRA Individual Tax Inquiries Line - 1-800-929-8281 – Agents available Monday to Friday, 9am  - 9pm, with Callback Service this year
My constituency office is also open and available to support you.
Please call 613-542-3243 or email [email protected] if you have questions or require assistance.  
Thank you for your patience and understanding during this unprecedented tax season.
As always, keep safe and stay well.
Sincerely,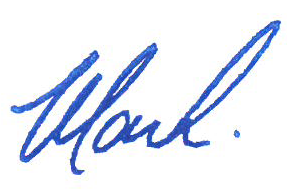 Mark Gerretsen, MP
Kingston and the Islands